Here are what our customers are saying about us.
Vincent F.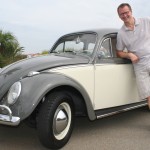 The car looks awesome; I got smiles all the way home. I was asked four times (twice at the gas station and twice at Home Depot) ,"Who did the work?" Looks great, I'm very very happy. It looks better now than when I first got it twenty five years ago.
Jimmy doesn't cut corners and is a straight shooter. He'll give you options and lay out choices. But, his default is to do it right and do it as close to original as he can. If you want options he knows those too. Including opting for the sweet two-tone with original anthracite grey with a contrasting white. When Jimmy evaluated the car he said the inside paint was in great condition and we could just buff that out, keeping it original and saving me money on the restore. He matched the outside perfectly.
There are many people who you can pay to restore your VW. Most fall into one of two groups: 1. cheap, bad, job that won't last. Or, 2. Too expensive. Jimmy's work hits the sweet spot in the middle. Infinitely better than a cheap job yet fairly priced for work that will last. I'd put his work up against those who paid twice as much.
Vincent F.
Vincent F.